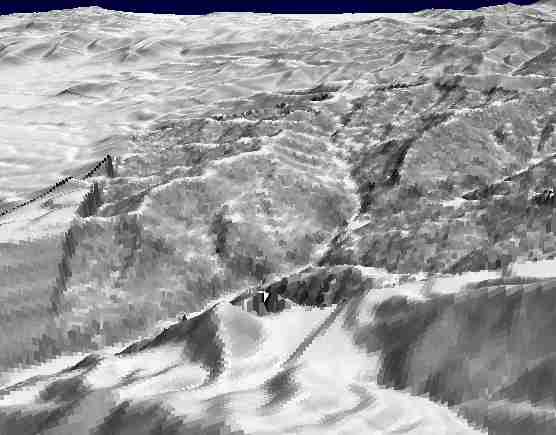 This is a simulation of what Bingham Canyon looked like before open pit mining began, made

to approximate the aerial view to your right.  It was created using a freeware mapping program called
Microdem
, written by Prof. Peter Guth of the US Naval Academy, which can do maps of this kind--and much more: see below for another example.
Here is an aerial photograph of Bingham Canyon as it appears today.  A hundred years ago there was a mountain where today there is an open pit mine, and billions of tons of rock have been hauled away, much of it short distances to fill in neighboring canyons, as shown in the view below.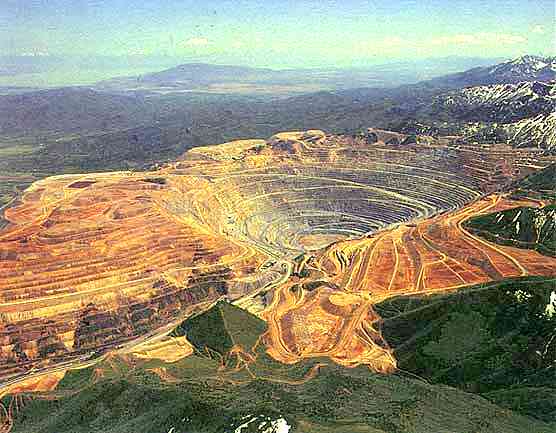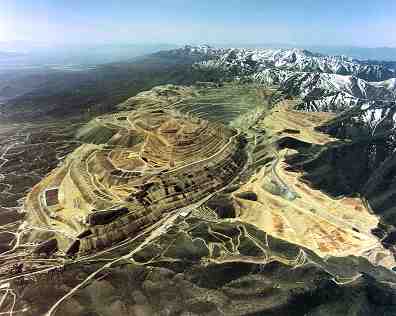 An aerial photograph of Bingham Canyon that was made about 1990.  The development of a mine of this size requires the technology to transport large amounts of waste rock away from the ore, then to transport the ore to a site where it can be processed.  For every ton of ore hauled, three tons of waste must be moved out of the way.

Since 1904 the mine has produced 17 million tons of copper, 23 million ounces of gold, 190 million ounces of silver, and 890 million pounds of molybdenum.  This is greater than the combined output of the California Gold Rush, the Comstock Lode of Nevada, and the Klondike Gold Rush.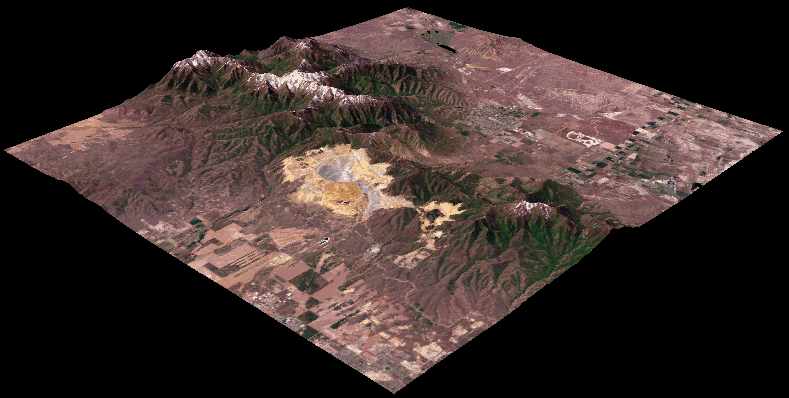 This view was created using
Microdem
's OpenGL feature.  Looking southwest toward the Oquirrh Mountains from a point about 20 miles above Salt Lake City, it combines topography from the Shuttle Radar Topography Mission with a Landsat 7 satellite image, both sets of data were obtained by NASA in the year 2000.  The Bingham Canyon Mine is in the center of the picture.  The light areas to the north of Bingham are the mine and dumps of  Kennecott's Barneys Canyon Gold Mine.  To explore a map of this area, click
here
.
To see this view as a 3D anaglyph, click
here
. 
To see additional NASA satellite imagery and applications, click
here
.
To explore JPL Landsat images of the entire United States, click
here
.
             To view Bingham as it would appear from various distances, click a resolution below (meters per pixel):




If there is no satellite picture to the left, the JPL site may be down; try coming back later, it's really fun!       
To view a collection of maps of Bingham Canyon and elsewhere, click
here
.
To return to the Bingham Canyon Photo Album, click
here
.
To learn more about the Hickman Family at Bingham Canyon, click
here
.
To return to the Hickman Family index page, click
here
.