William Adams Hickman

   Click on one of the image buttons along the left side: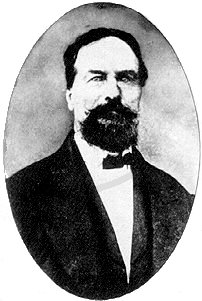 Who was Bill Hickman?

Who were the Danites?

Was Bill Hickman bad as they say?

Is there a good biography of Bill Hickman?

Can I read an excerpt from it?

Are there other pictures of Bill?

Where can I read Brigham's Destroying Angel?

Didn't he also write a short autobiography?

Did he write anything else besides that?

Got any pictures of his ten wives?

This ad for his services

as a lawyer appeared in

a newspaper called

The Valley Tan, published

at Camp Floyd in 1859.



    Click
here
.
This ad for Bill's book

appeared in the

popular magazine

Crofutt's Western World

in July 1873.

To return to the Hickman Family Index page, click
here
.
.













This is believed to be one of Bill's guns.  Click
here
for a closer look.